Nike
CREATE WITH AIR MAX
Reimagining Nike's customization process with AR.
︎︎︎ OVERVIEW:
To launch the new Air Max 2090 in Japan, Nike wanted to empower youth communities and celebrate their creativity with the product - at a time where consumers were mostly confined at home. Our challenge was to find an alternative way to keep the Air Max spirit alive and give our audience an opportunity to express themselves with the product.

Introducing "Create With Air Max", Nike's first AR-enabled coloring zine. An offline-to-online 'off the page' content experience that lets users customize their own Air Max. In the air, in real time.

The mixed reality experience is a published work of fans' stories and interviews by influencers, with a twist. Throughout the printed zine, readers discover Air Max inspired creativity, plus black-and-white illustrations. They scan the blank shoes with a smartphone to generate a floating AR model. As the shoe is coloured in on the page, the 3D model changes to reflect the creation. Once finished an animation of the design can be shared to social channels.
︎︎︎ RESULTS:

• 1000 zines distributed to Nike stores in Japan (Tokyo, Osaka, Fukuoka), and several Atmos stores;
• 12,400+ UGC stories submissions for the zine;
• Press: covered in 14+ publications;
Above all, the experience took Nike's sneaker customization process to a whole new level of creative expression, and spread the magic of Air Max when Tokyo needed it most.
︎︎︎ SELECTED PRESS:

Muse By Clio
Adweek
Creative Review

Communication Arts
Campaign Brief Asia
︎︎︎ ︎ RECOGNITION:
2021 D&AD — Wood Pencil
(Digital)
2021 CLIO Awards — Bronze
(Design Craft)
2021 Spikes Asia — Bronze
(Mobile)
2021 CANNES LIONS — Shortlist
(Mobile)
2021 AD STARS — Gold
(Design)
2021 AD STARS — Silver
(Interactive Craft)
2021 AD STARS — Silver
(Print)
2021 AD STARS — Bronze
(Mobile)
2021 AD STARS — Bronze
(Brand Experience & Activation)
2021 AD STARS — Crystal
(Mobile)
2020 Silver Transform Awards
(Brand Experience)
2020 Winner The One Show Asia Showcase
︎︎︎ CASE STUDY:
"Nike Made an Air Max Coloring Book That Soars to Life in AR"
The Muse

"Nike is putting a tech spin on coloring book pages"
Adweek
︎︎︎ PRINTED ZINE:
Featuring stories, styles and designs from 4 influencers / local creators and selected Nike fans.
Main creators were:
Aoi Ihara
(Fashion),
Spikey John
(Film director),
KANDYTOWN
(Hip Hop group),
Mona
(representative of No Plastic Japan).
The four main influencers shared their stories about creativity, and each of them created a unique design to be featured in the zine.
Besides them, thousands of local creators submitted their stories and styles digitally, and only a selected few made into a special chapter in the zine.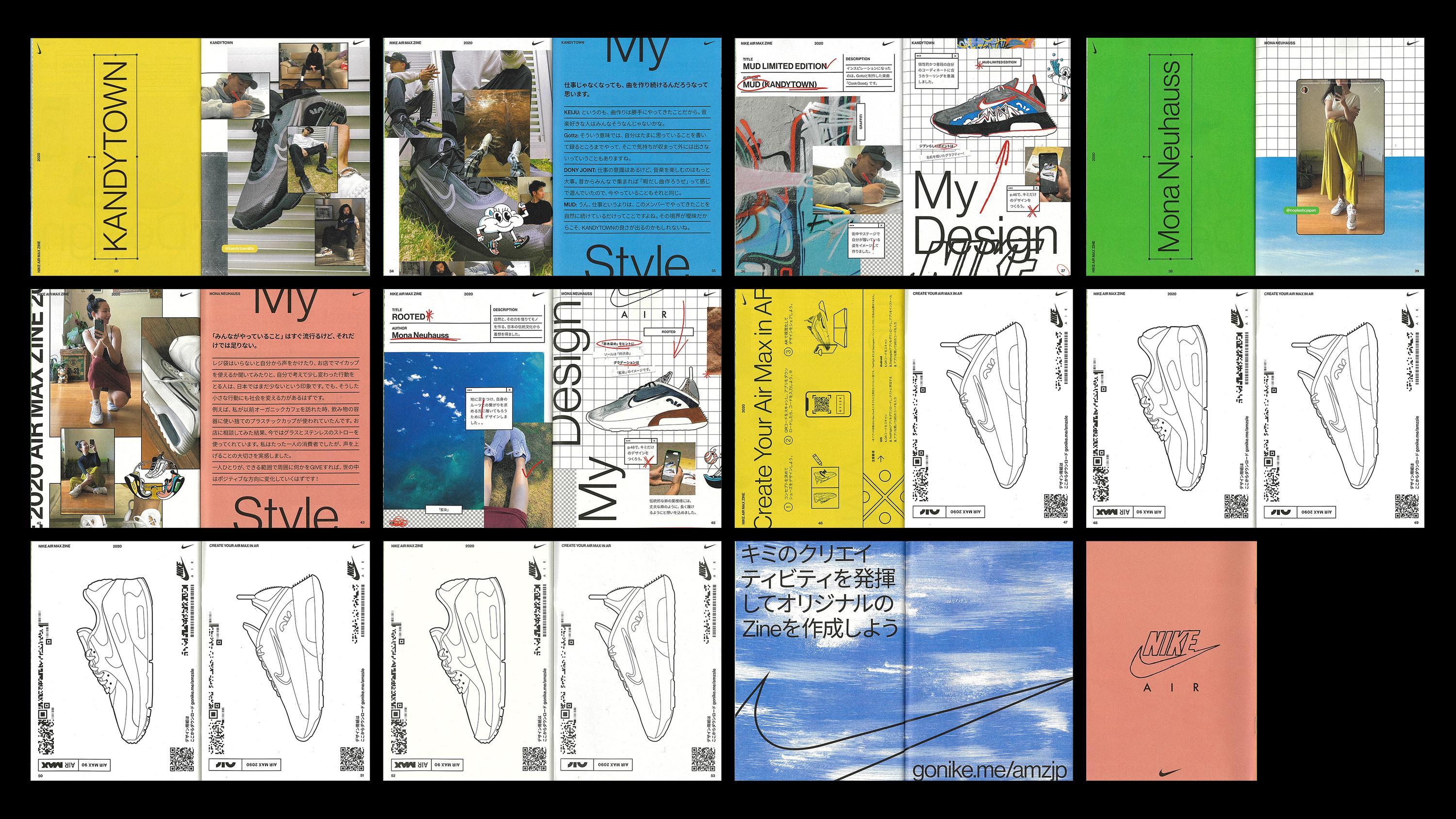 ︎︎︎AR COLORING, UGC AND SOCIAL: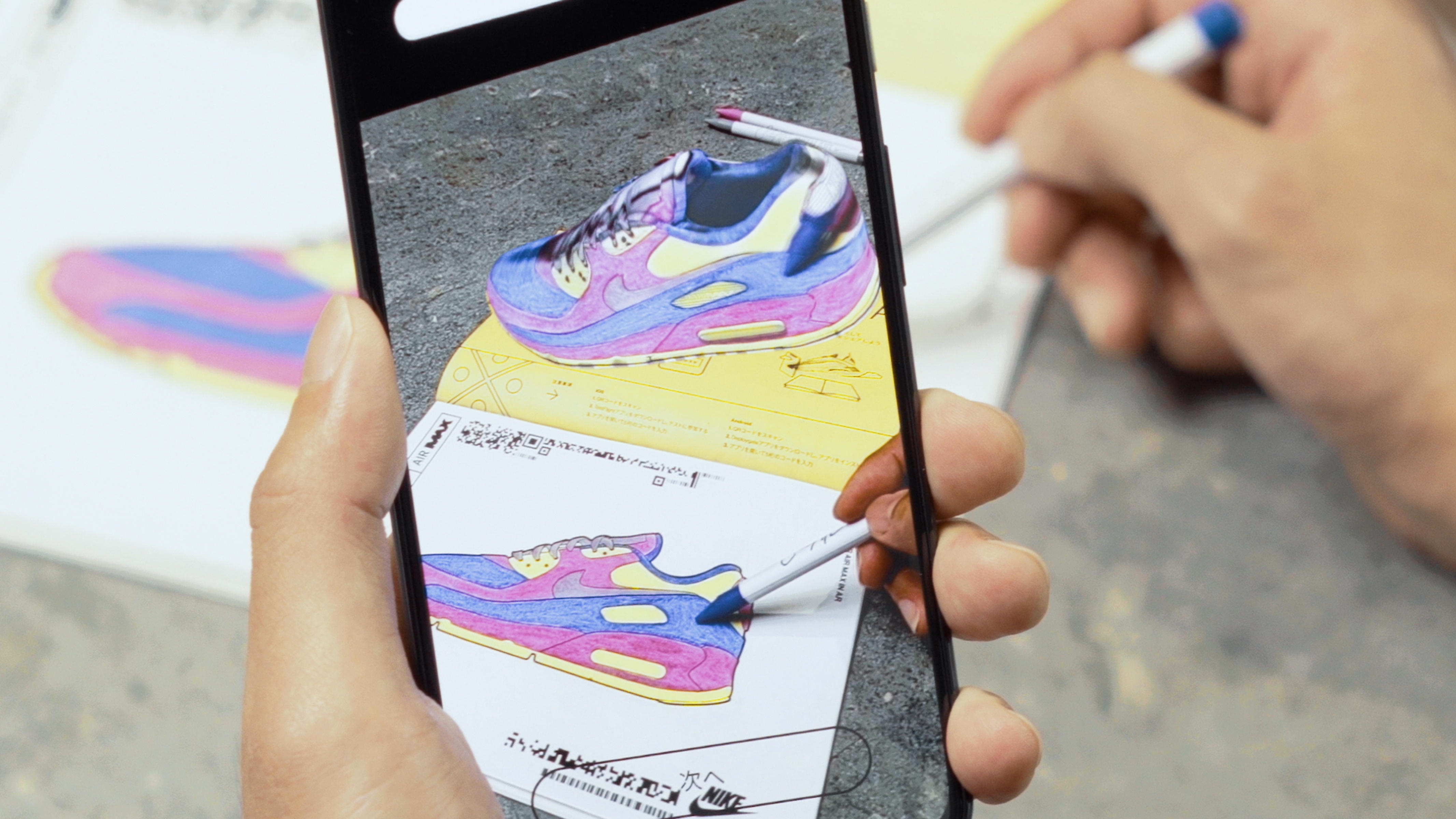 ︎︎︎ OOH + IN STORE:
︎︎︎ PROJECT INFO:

Brand: Nike
Agency: AKQA Tokyo + Shanghai
My role: Associate Creative Director
Year: 2020
︎︎︎ TEAM:

Group Creative Director: Tim McDonell
Associate Creative Director: Daniel Busch
AD & CW: August Ostberg, David Svedenstrom
Designer & AD: Matteus Faria
Brand Editor: Shunsuke Mori
Motion Designer: Zack Chua
Strategist: Kasumi Mizoguchi
UX designer: Gabe Beck
Client Partner: Hideaki Hara
Account Director: Faris Raucci
Senior Project Manager: Eiji Nakamura
Director of Technology: Steven Gutteridge
Creative Technology: Buboy Paguio, Chewy Wu
Tech Manager: Joe
Illustrations: Jimmy Simpson + Nike Global Design Team
Photographer: Andrew Goldie